[Posted in Irish Examiner 20th April 2015 : http://www.irishexaminer.com/ireland/us-parents-with-cork-roots-celebrate-honouring-of-slain-son-324696.html] by Eoin English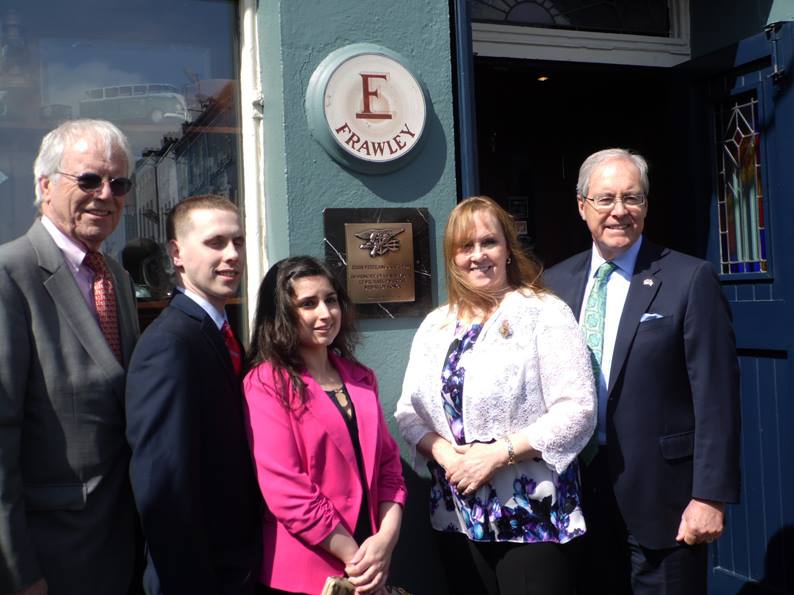 The parents of an Irish American US Navy Seal who was killed in action in Afghanistan a decade ago, and whose story inspired a Hollywood movie, have expressed delight at an Irish group's decision to honour his memory.
Dan and Maureen Murphy, who have family links to Cork, were speaking in Kinsale last night ahead of a special event today where their late son, US Medal of Honor recipient, Lt Michael P Murphy, will be honoured by Irish Veterans.
Irish Veterans is a Kinsale- headquartered organisation with a focus on Irish men and women who served in foreign military and ancillary forces.
It is the first time Lt Murphy, who was known amongst his Seal team as the "fiery Irishman from New York", will be honoured outside the US.
Irish Veterans spokesman James Sikora said one of their key aims is to develop a global network of chapters to allow veterans of Irish descent share their stories. And they will name their first chapter after Lt Murphy at a black-tie dinner in Kinsale tonight attended by US Ambassador Kevin O'Malley, US Defense Attache Lt Col Sean Cosden and several senior US Naval officers.
Lt Murphy's father, Dan, said: "We are absolutely honoured that you want to celebrate his life and that his legacy of service and sacrifice transcends borders.
"We look on it as celebrating Michael's life of service rather than dwelling on the tragedy of his death."
He said his family is thrilled the event is taking place in Kinsale, Co Cork, close to the town's 9/11 memorial garden: "Michael and his Seal team wore the patch of the New York fire department engine company 53, ladder company 43, who responded to the Twin Towers attacks, to remind them of why they were in Afghanistan - to stop another 9/11."
Maureen, whose father was born near Mallow and whose mother's family come from Derry and Armagh, said she was moved by the Irish Veterans' group gesture. "I'm honoured that Mike's name is on the chapter but he was a team player and this veterans group will celebrate all the Irish who have fought in all the different wars," she said.
Lt Murphy, 29, was the leader of an elite four-man US Navy Seal team which was deployed near Asadabad in Afghanistan in June 2005 on a covert counter-insurgent mission, codenamed Operation Red Wings.
They were tasked to monitor high-value target Ahmad Shah, a militia leader aligned with the Taliban. But the operation went disastrously wrong when the team was compromised at their hide-site by local goat herders, who raised the alarm. The team was surrounded by up to 50 Taliban fighters and an intense two-hour gunfight ensued. During the battle, Lt Murphy knowingly exposed himself to enemy fire and left cover to climb an exposed outcrop to get a clear satellite signal to radio for help. He was shot as he called for help, but despite his injuries, he returned to fight. He died a short time later alongside two of his comrades, Danny Dietz and Mathew Axelson.
Marcus Luttrell, the only team member to survive, was rescued in a major operation during which a US helicopter was shot down with the loss of 16 US Special Ops soldiers. The story inspired the Hollywood movie, Lone Survivor, staring Mark Wahlberg as Luttrell.
Lt Murphy was buried with full military honours at Calverton National Cemetery in New York. He was later awarded the Medal of Honor — the first member of the US Navy to receive the honour since the Vietnam war. Navy Seal Captain Duncan Smith, who was in Kinsale last night ahead of the ceremony, said Mr Murphy had the heart and soul to be a member of the elite Special Ops force.
Michael P Murphy's parents Dan and Maureen from Patchogue Long Island and son John, of the NYPD, with US Navy Seal Capt Duncan Smith, Master Chief Chris McCown, Lt Commander William Fensterer, and Petty Officer William Hutton in Kinsale.
"What he was called upon to do and what he chose to do really set him apart, even in a community as elite as the Seals," he said.
Since Lt Murphy's death, a US navy destroyer, a post office, a combat training pool at Naval Station Newport, a navy bachelor apartment complex, a Sea Cadet unit, a park and a monument on Penn State's campus have been named in his honour. Among those attending today's event will be Commander Tamsen Reese, Mast Communication Specialist First Class Shawn Pratt, and crew members of the USS destroyer Michael P Murphy.